HackConf 2019 Call for Speakers is open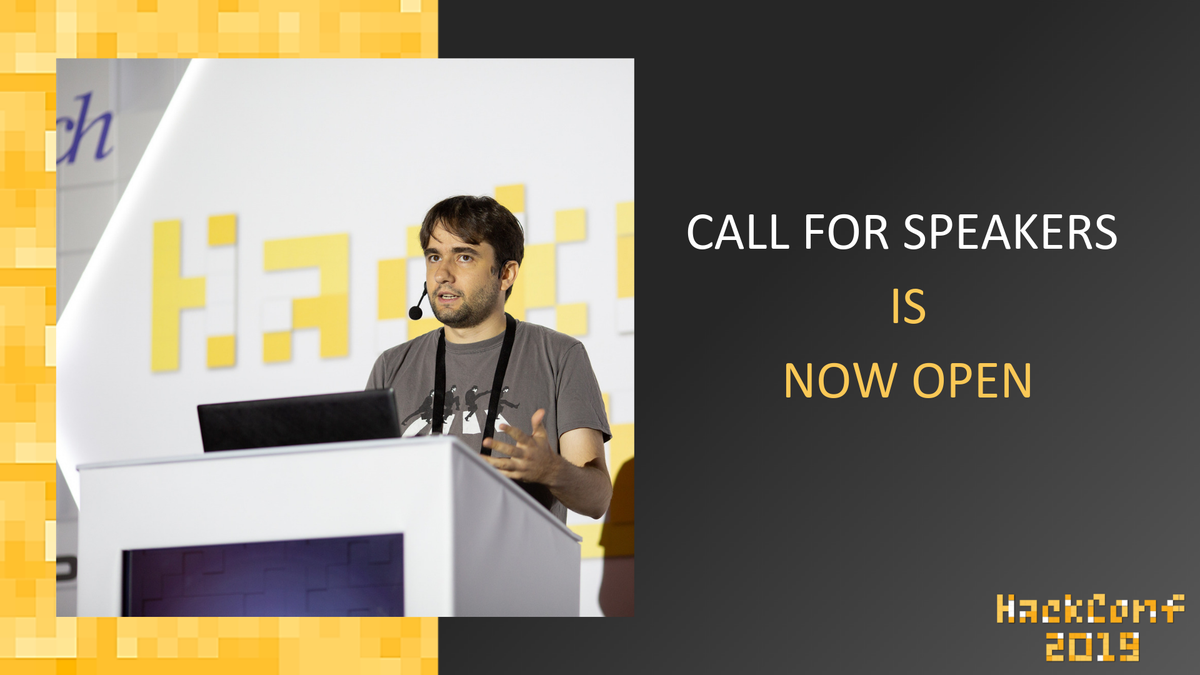 Hey folks!
Are you ready to speak at #hackconf? We are excited to announce that the Call for Speakers is now open! 🎉
👉 The deadline for submissions is 30th of April
👉 We'll let you know if your talk/workshop is accepted by May 31, 2019 
Every year since 2015 HackConf has welcomed professionals of all walks to share their passion, insight, and experience with the developer community. 
The selection process 
We value both strong individual characteristics and the overall diversity of our speakers' line-up. 
Our team will review all submissions and make an initial selection 
We set a convenient time for a 10-15 minute online interview 
The team votes and chooses the final roster of speakers 
What are we looking for? 
👉 Talks 
Length: 30 minutes

The conference days (12-13th of October) will run on two tracks. Your talk should be 30 minutes long.
We believe that the best talks are the ones which our audience can use in their work after the end of the conference. The talk can be suitable for all levels of experience - from beginners & advanced beginners to senior developers. 
We particularly favor talks that either contain practical takeaways for the audience or take the form of a story that can inspire our attendees or help them avoid common mistakes. It's helpful if it has a fairly wide appeal, although sometimes niche talks are well received too. Check out HackConf 2018 talks for some inspiration! 
👉 Workshops 
Length: 3 - 3.5 hours 
Max participants per workshop: up to 20
We're open to all kinds of ideas, especially ones we haven't thought of! Technical workshops tend to be more popular, but we welcome all topics! Workshops can be targeted at any experience level, just be sure to indicate clearly what you expect your students to already know or have experience within your proposal! 
Here you can find more about last year's workshops. 
Guidelines 
Take some time and give your application focus and purpose. We promise your efforts will not go unnoticed. Our full guidelines for the speakers and talks - see here 👏 
And keep in mind:
All talks are in English;
We value original ideas applicable to real-world problems;
Be brief and go straight to the point of your proposal;
Take care of the formatting;
If your talk contains live coding, we would prefer if you could pre-record it; 


What if we like your proposal? 
There are some perks if you become a speaker: 
Travel to Sofia (if you are traveling from abroad) 
Accommodation in a comfortable hotel (3 nights) 
Professional photography and video recording of your talk 
Ticket for the conference. 
What are you waiting for? 😎 We can't wait to hear from you!
Be quick and apply here before April 30
. 😉 
Have any questions? Please write us at team@hackconf.bg or at our FB page/Twitter.